【Location】Bell Tower
【Type】 Ancient Architecture
【Rank】 ★★★★
【Recommended Time for a visit】 1--3 hours
【Opening Hours】: 8:3000-21:30

As the landmark of Xi'an, the Bell Tower is located in the very center of Xi'an's Inner City and serves as the intersection of East, West, South, and North Streets. The Bell Tower was first built in 1384AD. The original site was in the Guang Ji Street and the tower was renovated and removed to today's site in 1582AD, and ever since then, it became the landmark of Xi'an.There is a huge bronze bell hung in the tower and once used for reporting time every morning at 6:00 AM, Hence the name Bell Tower. The iron bell, weighing more than 2.5 tons,was cast in the 15th century now rests in the northwest corner of the base.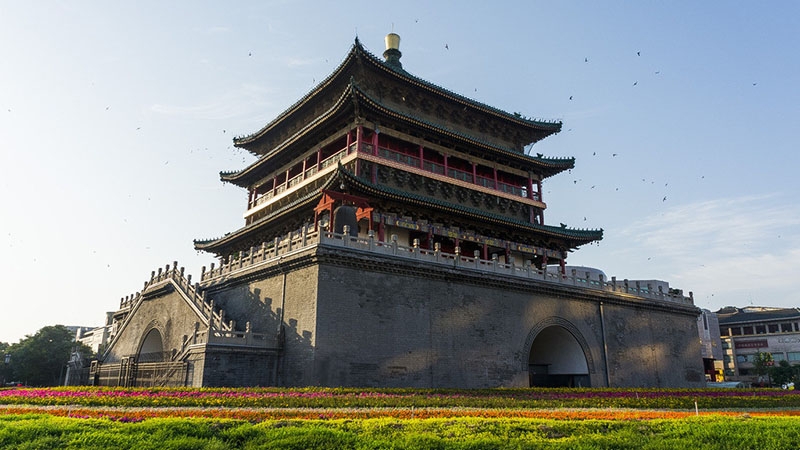 The foundation of the Bell Tower was built of bricks and is 35.5 meters long on each side and 8 meters high. Above the brick foundation is the tower itself of three layers with graceful upturned eaves. People are always amazed by knowing that not even a single nail was used in this Ming Dynasty style wooden architecture, for the columns and crossbeams are connected by mortise and tenon joints, This is called Dou Gong in classical Chinese architecture, more simply it is a system of supporting brackets inserted between the top of a column and a crossbeam.

The entire building is 36 meter high, In the base of the tower are four arched doorways. The Ming and Qing Dynasty style designs are found on the ceiling and roof inside the tower. Two grand flights of wood stairs lead to the top of the tower. Climbing to the balcony on the tower is rewarded a magnificent view over the whole inner city of Xi'an.

The Bell Tower is just easy to access to some of the historical sites in the town, such as the Muslim Street, Great Mosque to the west of it (only 5 minutes walking distance). Or to the south gate of Xi'an city wall which is also about ten minutes on foot.

The Melody hotel close by the bell Tower is the airport shuttle bus station that taking passengers to the airport. Besides, there are plenty of famous Chinese restaurants located around the Bell Tower, such as De Fa Chang dumplings restaurant, Qin Tang Yi Hao Si Chuan flavor Chinese restaurant.