【Location】Songpan County,Sichuan Provice
【Type】 World Natural Heritage
【Rank】 ★★★★★
【Recommended Time to stay】 One Day
【Opening Hours】8:0-17:00
Twinned with Yellowstone National Park in the USA and praised for its colorful limestone ponds, Huanglong, which means Yellow Dragon Mountain, lies in the south part of Min Shan in Songpan County. Situated in the northwest of Sichuan Province and 128km south of Jiuzhaigou, the Huanglong Valley is edged by snow-capped peaks and glaciers. An incredible bio-diversity of flora and fauna thrives here alongside spectacular limestone formations, waterfalls and hot springs. The animals, including the giant panda and the Sichuan golden snub-nosed monkey.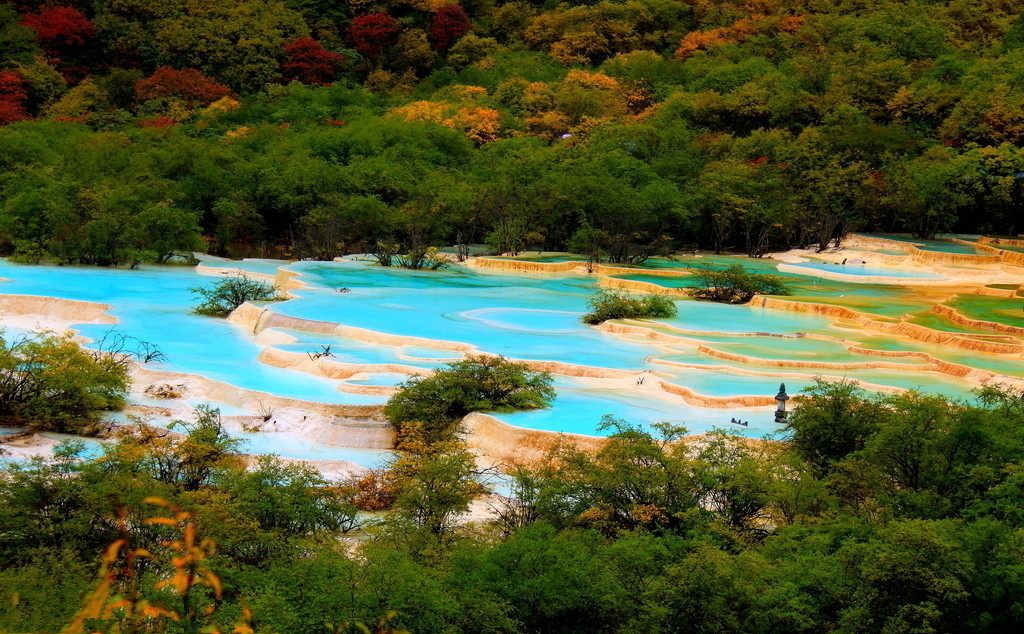 Making it onto the UNESCO World Herigate Site listings in 1992, Huanglong is sectored into two gorges, Huanglong and Muni. The Huanglong part of the park is watered by tributaries of the Fujiang River, which run down Snow Mountain Ridge, feeding hundreds of small lakes and ponds. The rocks on the valley's sides have been twisted into weird shapes by snow and rain but so too the rocks lying beneath the clear lake water. Most visitors first concentrate on the Huanglong section of the park. Dotted with ponds and patterned like a dragon, Huanglong Vally cuts its way through Minshan.
More than half of the Huanglong zone is forested, with mountain pines mixing with broadleaf trees, flowers, shrubbery and meadow grasslands. Sitting atop the parkland, Snow Mountain Peak is permanently snow-covered and looks a daunting climb. Equally daunting are the spectacular cliffs overhanging the Fujiang River's driver through the Danyun Gorge. Algae and growth in the little lakes below turn the water a rainbow of colors: orange, yellow, green and blue. Other karst features include long limestone shoals, fan-shapped slopes of limestone deposited and covered by a thin layer of flowing water.
The Muni Gully subdivision consists of two parallel small gullies, Zhaga and Erdaohai Boiling Lake simmers at 21℃ in what amounts to a massively sized swimming pool. The waters of both springs have high mineral contents and are saide to have important medicinal properties. Muni Gully also contains a number of very attractive lakes and Zhaga Waterfall.
Because of its relatively pristine state, the forests at Huanglong are home to hundreds of bird species. On a walk into the higher reaches of the hills, away from the hordes of tourists below, one hears a cacophony of different birdcalls. Panda meanwhile are found at four to five specific locations within the site, though visitors should tread carefully and slowly if they are hoping to catch a glimpse. Much harder to spot is Sichuan golden snub-nosed monkey, an endangered species that hides out in Huanglong's more undisturbed woodland.
As in Jiuzhaigou, but perhaps a more low-key presence, there are also plenty of indicators of tibetan religion. A pair of small stone pagodas stands near the entrance to the park that date from the Ming dynasty. Nearby the Huanglong Temple and the ruins of a much older temple still draw plenty of worshippers. Also in the vicinity, Body Washing Waterfall is said to have healing properties for those who bathe in its waters.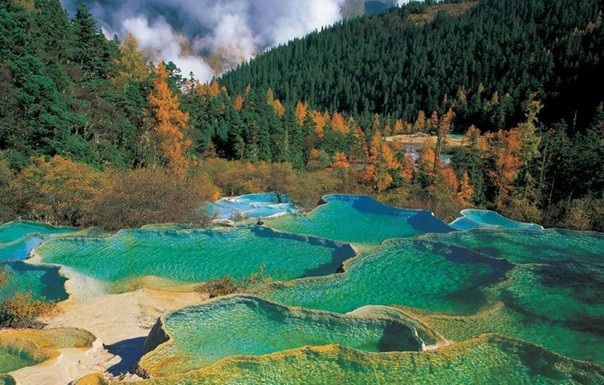 Huanglong Town is a medium sized Tibetan village close to the center of the main Huanglong subdivision. Local Tibetan herdsmen grazing their livestock and cultivating the land nearby make for great subjects if you are slinging a camera. The larger town of Songpan cuts Huanglong off from the Muni gully subdivision and is worth exploring in its own right if only for its stout town walls, Tibetan architecture and colorful vitality. It's also a good spot for souvenir hunting.

When to visit it
From September to October is the best time to travel Huanglong Scenic Area. During that time is the golden time, the scenery of Huanglong is especially beautiful. The colorful pools and the golden maple leaves make people linger on without any thought of leaving. Huanglong in summer, the highest temperature is tens or more degree that it is very cool, so it is suitable to visit Huanglong in summer for avoids summer heat. And due to its special geography location and weather issue, it is closed in winter.
How to Get to Huanglong
Tourists can take flight to Jiuhuang Airport first, which is located in the Chuanzhusi Town, 43 km away from Huanglong. During the peak season (from April to November), there are shuttle buses from the airport to Huanglong, and it stops 4 hours in Huanglong and heads to Jiuzhaigou Valley. Or people can take bus from New South Gate Bus Station in Chengdu to Huanglong directly. The road is secondary road which has good road condition.
Climate
Huanglong Scenic Area belongs to plateau temperate subfrigid zone monsoon climate types. Its climate features are: cold and moist, long winter in the year and short summer day, the spring and autumn is similar. It has an average annual temperature of 7 ℃ and it has adequate sunlight, mist in the morning and evening, rainfall concentrated in May to August each year. The hottest month in Huanglong Scenic Spot is July, with average temperature of 17 ℃, the coldest month is January, with average temperature of 3 ℃. From April to November each year is the best time to visit Huanglong.

Development and Construction
• In October 1982, Huanglong became the national key scenic spot exanimated and approved by State Council of the People's Republic of China.
• In December 1992, Huanglong formally listed in the "world heritage list" by UNESCO as a natural heritage.
• In 1997, it was listed by the United Nations as the world's man and biosphere reserve.
• In February 2001, Huanglong got the "Green Globe 21" certificate, and it has become a world-class scenic area with the three crown of laurels.