【Location】Chengdu City, Sichuan Province
【Type】Natural Landscape & Historic Attractions
【Rank】★★★★★
【Highlights】The Giant Panda Base, Wuhou Temple, Mountain. Emei
【Recommended Time to stay】3--5 Days
Chengdu is the capital city of the Sichuan Province, located in the South-central part of China. Similarly known as "Chengtu", the city is a major transportation and economic hub to Southwest China and enjoys a great historical past mingled with rich natural features that rank it today as one of China's best tourist city. As part of a mountainous area set in the so-called "Tian Fu Zhi Guo" (天府之国) meaning the "country of heaven" or "land of abundance", Chengdu is one of the rare Chinese cities that never changed name during its history. Compared to a brocade and hibiscus city, Chengdu is a marvel for lovers of traditional culture and deep rich nature. Namely, Chengdu is worldly renowned for being the place where the few last preserved Giant Pandas live: an extraordinary visit to anyone coming here! Divided into 9 districts, 4 county-level cities and 6 counties the city of Chengdu is today regarded as one of the biggest in central mainland China. The city is situated on the Sichuan Basin and enjoys a monsoon humid subtropical climate. Travelers who have the opportunity to stop in this city will appreciate the Chengdu food, dialect, culture at every corner. Being the centre of lots of investments since recent years, Chengdu is definitely a place where anyone would love spending some days.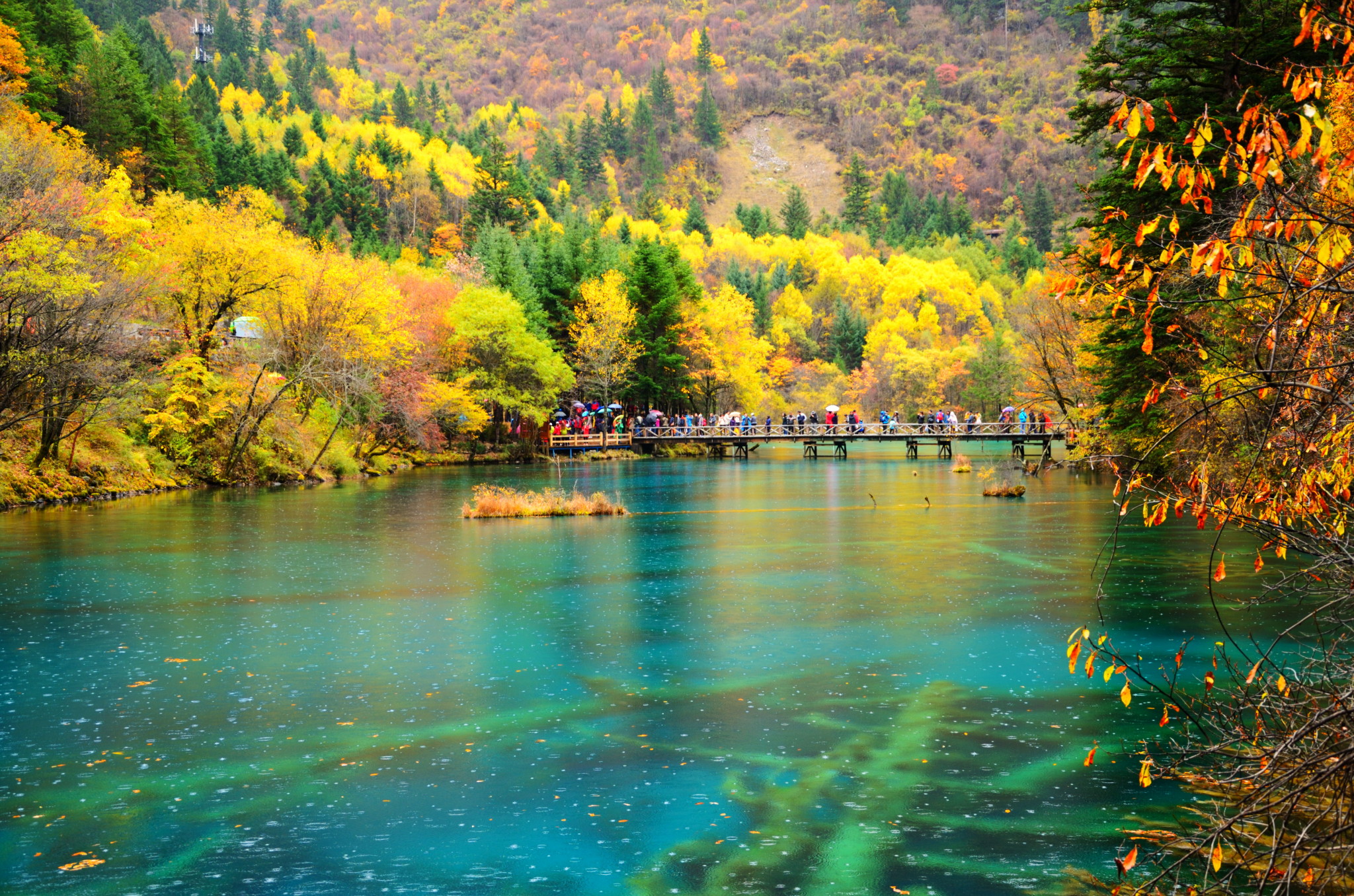 ★ Main Scenic Spots in Chengdu
The Giant Panda is an endangered animal found only in western China, because of human encroachment, the panda's habitat is now reduced to six isolated patches mainly in Sichuan. Pandas are related to bears, though they are significantly different in many ways. Bamboo is the main source of food for pandas and they spend at least 12 hours a day eating. Bamboo is a poor source of nutrition for pandas, so they eat as much as 38kg of it a day. One reason why yhe habitat range of the panda is limited is because they only eat specific species of bamboo found within their homerange, and the area are becoming progressively smaller.

Initially built in 223AD, Wuhou Temple of is a historical and cultural relic which is known as a "Sacred Place of the Three Kingdoms (the three kingdoms: Wei, Shu and Wu that formed the Tripartite Confrontation in ancient China from 220AD to 280AD)". Wuhou Temple has been a famous tourist destination for more than 1780 years.As a perfect example of Three Kingdoms' architecture, the Wuhou Temple consists of five main buildings. They are respectively the front gate, the interior gate, the Hall for Emperor Liu Bei (Emperor of Shu Kingdom), the Hall for Zhuge Liang (the predominant talented military advisor and strategist of Emperor Liu Bei), the Huiling Mausoleum (the mausoleum of Emperor Liu Bei).

Mountain. Emei, located in Leshan City 150 km away from Chengdu, is one of China's best known summer destinations due to its pleasant weather, gorgeous natural scenery, and ancient Buddhist architecture. Emei Shan is one of the four Buddhist sacred mountains of China. At 3,099m, Mt. Emei is more than 1,000m higher than the other three Buddhist sacred mountains. The mountain is characterized by ancient pines, clean brooks, and picturesque waterfalls. Standing on the summit, visitors can enjoy an unforgettable view of snowy mountains and vast plains in the distance. Mt Emei was added to UNESCO's Natural and Cultural Heritage List in 1996.

Mountain. Emei is noted for its weather differences between different spots on the mountain. It is not uncommon for it to be extremely hot at the foot of the mountain, and at the peak it is necessary to wear a jacket.

Being one of China's four most important Buddhist mountains, it is said that Buddhism was brought to Mt. Emei in the first century BC. After over 2,000 years of development Mt. Emei has become a place rich in Buddhist heritage making this mountain extremely popular with visitors and pilgrims. Every morning streams of pilgrims climb the steps of Mt. Emei and swarm into its temples.
Transportation
As a well known transportation hub and tourist city, Chengdu is famous for its extensive transportation system as it is the communication junction of Southwest China and the gateway to Tibet. Conveniently connected to over 100 domestic and international airports, Chengdu is accessible from and to almost all the major countries in the world.

By Air
As the forth largest international airport around China, Chengdu Shuangliu International Airport has 65 domestic and international airlines in total. Most flights leaving for Lhasa are taking off from this airport, making it one of the busiest airports of China. Flights bound for Beijing, Shanghai, Guangzhou, Xi'an, Zhangjiajie, Hangzhou, Nanjing, Urumqi, Qingdao, Changdu, Xiamen, Guilin, Kunming, Haikou and other 70 cities in China are also available. In addition, travellers can fly to Hong Kong, Bangkok, Singapore, Tokyo and other eight international cities from Chengdu Shuangliu International Airport. In effect, those who decide to tour around Sichuan province can take airplanes between Chengdu and Dazhou, Xichang, and Kangding.

By Train
Chengdu is the biggest railway hub in Southwest China, with Chengdu-Chongqing railway, Baoji-Chengdu railway, Chengdu-Kunming railway, Dazhou-Chengdu railway all starting from here. People from twenty more cities can take through trains to Chengdu, too. There are three railway stations in the city, that is, Chengdu North Railway Station, Chengdu South Railway Station, and Chengdu East Railway Station.

Chengdu North Railway Station – the largest railway station of Southwest China is located on the Second Ring North Road. Passengers can book tickets ten days in advance.

Chengdu South Railway Station – trains of Chengdu-Kunming railway and Chengdu-Chongqing railway will pass here to send visitors to Panzhihua, Xichang and North Chongqing.

Chengdu East Railway Station – it is close to Hualong Road, Third Ring East Road. Visitors can take No. 2, 47, 91, 181, 121 buses to reach here.

By Bus
Chengdu is the biggest bus hub in Southwest China, with national roads 108, 319 and other 6 ones crossing here. As for how many railway stations are there in Chengdu, the locals may be confused, so the best way for those who have been the city for the first time is asking for help.

Chengbei Tourist Bus Centre – located near the flyover of Wukuaishi (五块石立交桥). Buses are bound for the northern and eastern part of Sichuan province, Nanchong, Bazhong, Dazhou and other places.

Hehuachi Tourist Bus Centre – located on the No. 301, North Section 3, Second Ring Road (二环路北三段301号). Buses are bound for Chengdu-Chongqing Railway, South Sichuan and East Sichuan and other places.

Liangjiagang Bus Station – located on the First Ring Road (一环路). Travellers can get here by No. 27, 34 buses. Buses are bound for some cities of North Sichuan.

Wuguiqiao Bus Station – located next to Tazishan Park. Travellers can arrive here by No. 2, 4, 21, 37, 49, 58 buses. Buses are bound for Chongqing, Yibin, Zigong, Nanning, Guilin, Fuling and other places.

Xinnanmen Bus Station – located on the Xinnan Road (新南路). Taking No. 6, 28, 49, 55, 301 buses can reach the station. If you are decided to visit some famous scenic spots around Chengdu and within the province, you can take bus at the station.

Chadianzi Tourist Bus Station – located on No. 289, Section Five, Third Ring West Road (西三环路五段289号). By No. 108, 30, 337, 341, 405, 44, 4, 79, 805, 82, 86 buses can get here. When you intend to enjoy the scenic spots in the western or northern part of Sichuan, you can arrive there by bus from this station.

Jinsha Bus Station – opposite to Southwest Finance University and next to Metro Supermarket, buses of the station can bring you to such counties as Wenjiang, Xinjin, Meishan and Longquan.

Climate
As the provincial capital of Sichuan province, Chengdu falls into subtropical monsoon climate, with such features as early spring, hot summer, cool autumn and warm winter. The annual temperature on average is 16℃,annual precipitation 1000 millimetres. One of the noticeable features of Chengdu climate is much cloud and mist, and short sunlight, which can be elaborated from a proverb – dogs in Sichuan bark at the sun. Another feature is damp air. So in summer you will feel sweltered although the temperature is below 35℃. In winter the average temperature is above 5℃, and is relatively dry. If you are decided to visit Chengdu in July or August, remember to bring raincoats and umbrellas.

The history of Chengdu
Chengdu city's foundation is said to trace back to 316 BC. The name of the city appeared after the 9th King Kaiming of the Ancient Shu moved its capital to actual Chengdu, giving to it the name "cheng du" literally meaning "to become a capital". Being a place of many historical events, the first hints concerning the city are based on the brocade industry that flourished during the Western Han Dynasty (206 BC - 23 AD), a popular production among the royal and upper classes of China. Split by the Brocade River (Jin Jiang River), Chengdu became renowned as the place where Southern Silk Road caravans used to stop off, giving it the early nickname of Jincheng (锦城), the "Brocade City". This is then during the Five Dynasties and Ten Kingdoms Period (907 AD – 960 AD) that an original historical fact had an impact on the city"s popularity. Indeed, the King of the Later Shu Kingdom ordered the planting of hibiscus flowers on the surrounding fortress wall, a curious but lively spirited idea that gave it the name of the "City of Hibiscus" (Rongcheng, 蓉城). Moreover, touring Chengdu on your China trip is also a way to walk on the steps of the original creators of the paper money. Indeed, Chengdu is the birthplace of the world's first widely used paper money created there around 960 AD (Northern Song Dynasty). Devastated by Mongols around 1279 and place of many mass executions, Chengdu still erected as a great city afterwards. The traveler and European Christian merchant Marco Polo had also a stop in Chengdu during his journey to Asia during the 13th century. Some of his writings are famous for a special description of the Chengdu Anshun Bridge on which travelers use to stop by today. Host city of Chiang Kai-Shek and the Guomintang Party after the Japanese invasion during the Second World War, Chengdu developed as a major economic and transportation hub in Western China as well as an agricultural resources place for the whole country. Dramatically renowned for the May 2008 earthquake that made huge victims and damages in the area, Chengdu is without any contests a must-see destination on a Sichuan tour.
★Nearby Attractions:
■ Jiuzhai Valley National Park
Address: Tibetan Qiang Autonomous Prefecture of Ngawa
Located in the north of Sichuan Province, Jiuzhaigou County (previously known as Nanping County until being renamed in 1998) is part of the Aba Tibetan and Qiang Autonomous Prefecture. Since the opening of the Jiuzhaigou Valley Scenic and Historic Interest Area in 1984, visitors have flocked to the region year by year, and the prosperous tourist industry now accounts for a large proportion of local revenue
■ Huang Long
Address: Songpan County,Sichuan Provice
Twinned with Yellowstone National Park in the USA and praised for its colorful limestone ponds, Huanglong, which means Yellow Dragon Mountain, lies in the south part of Min Shan in Songpan County. Situated in the northwest of Sichuan Province and 128km south of Jiuzhaigou, the Huanglong Valley is edged by snow-capped peaks and glaciers. An incredible bio-diversity of flora and fauna thrives here alongside spectacular limestone formations, waterfalls and hot springs. The animals, including the giant panda and the Sichuan golden snub-nosed monkey.
■ Leshan Giant Buddha
Address: Leshan City, Chengdu
Leshan is 162 kilometers (about 100 miles) from Chengdu. East of Leshan City, is home to the Leshan Giant Buddha Scenic Spot, which was named after the giant statue of Buddha. It is actually a statue of Maitreya, a fat laughing Bodhisattva who symbolizes brightness and happiness.