Fenghuang Ancient City, also called Phoenix Ancient Town in Chinese, is located at the southwest ridge of central China's Hunan Province. Hemmed in by rolling mountains and watered by a smoothly flowing river, flagstone streets, rows of traditional wooden houses built on stilts, towers, bridges everywhere, small boats rowed down the river, that's a portrait of Fenghuang.

★Fast Facts on Fenghuang Ancient City
■ Chinese name: 凤凰古城
■ Main Scenic Spots: Stilted House,Tuo Jiang River, Rainbow Bridge
■ Entrance Fee: 133RMB/PAX
■ Suitable for: a cultural and leisure tour
■ Time needed: 1 day
Stretching diagonally from the northwest to southeast of the town, Tuo Jiang River is a life force of the local people. In its waters women wash their clothes and clean rice and vegetables while the men fish with their nets, while on the bank food is prepared in much the same way as it has for centuries. The river also provides a means for boatmen to support their families by ferrying tourists up and down stream so that they may admire the many splendours of the town. On the bank of Tuo River, local food is prepared in much the same way as it has been for centuries.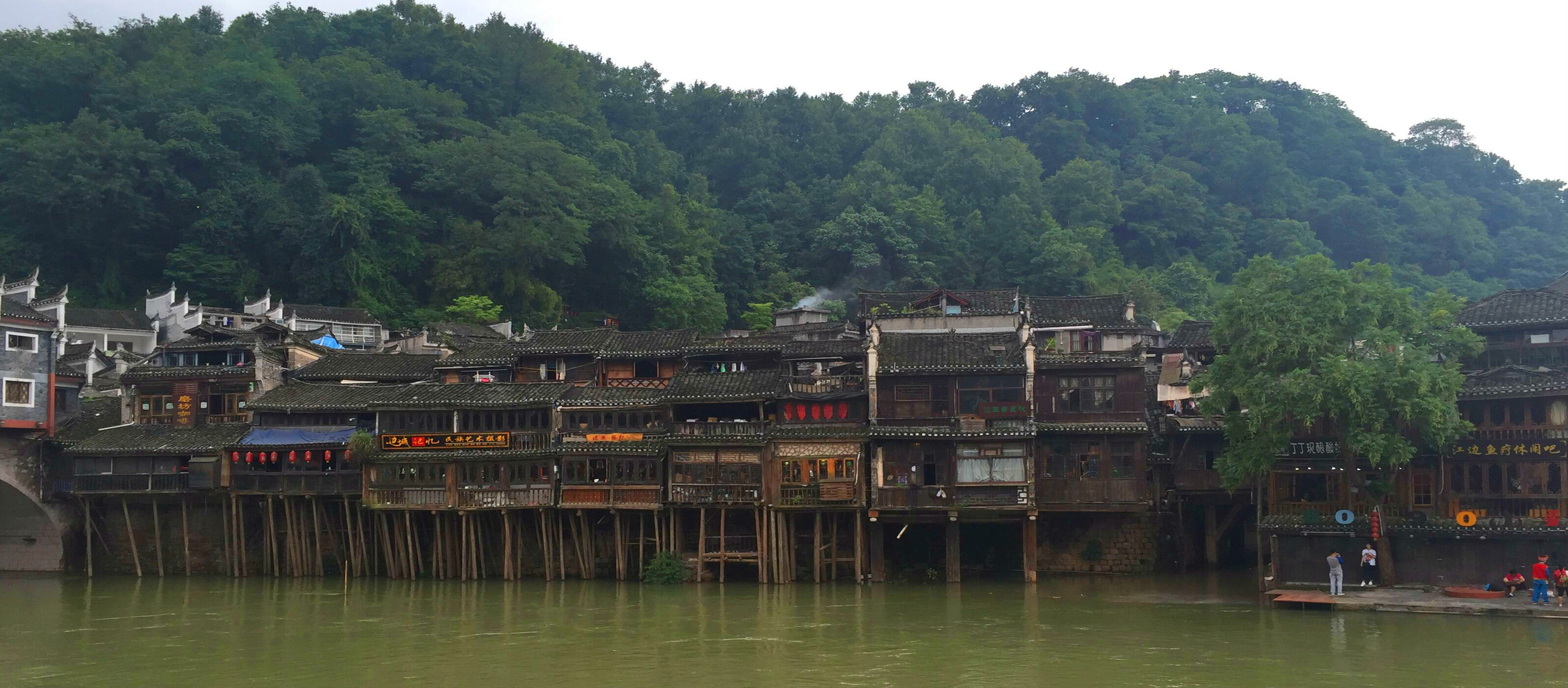 The image of those stilted houses built on the high riverbank and the green mountains behind them reflecting in the limpid wave of the Tuo Jiang shows a harmony of the ancient city.Here dozens of alleys paved with flagstones run between the houses, each showing wear caused by the feet of generations of local people who have used them when going about their daily business. Along the old street are the crusted brick walls and plain thresholds. There are not many shops or colorful advertisement. Most of the houses open their doors and windows, which is assuring to visitors. Such profound and mystical scenes will evoke people's longing for a more remote and simpler time.

Being endowed with beautiful scenery, Ancient Town of Phoenix is also a famous historic and cultural city. From time immemorial, lots of virtuous and outstanding persons have been cultivated in the western area of Hunan Province. Among them is the great literary master Shen Congwen, who ever depicted in his works an incomparably beautiful world in the west of Hunan Province. It is based on Ancient Town of Phoenix that this beautiful world was described. His works have been translated into many foreign languages, by virtue of which large quantities of readers around the world are deeply attracted by the elegant scenery and rustic folkway described in the work.

★The Main Scenic Spots
Stilted House in Fenghuang Ancient City is amazing. Every house is connected by corridors on three sides and has wooden balustrades (stairs and railing, usually leading to a balcony, bridge, or terrace) protruding over the river, offering great views. On sunny days, many housewives wash and club their clothes under the stilted houses. It is a real sight to see them splashing water. The best place to view the Stilted House is to stand at Rainbow Bridge.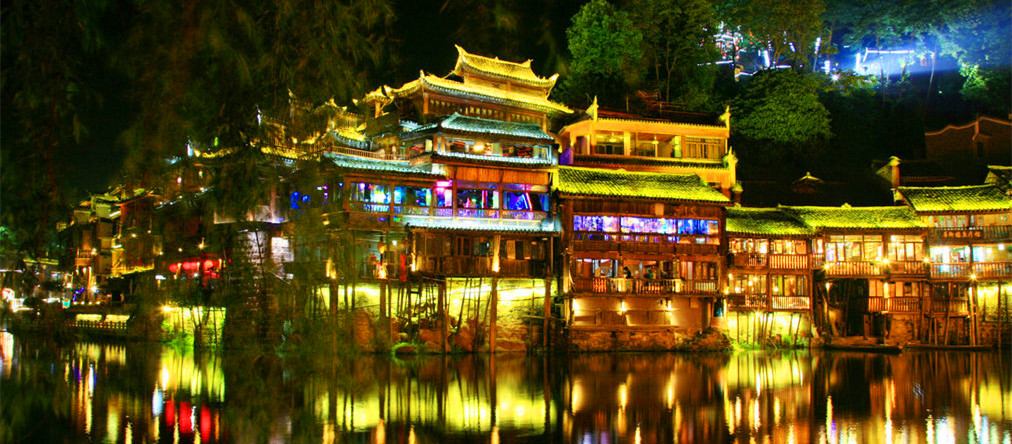 Former Residence of Xiong Xiling, Xiong Xiling was a great philanthropist, and the first premier of the Republic of China (1911-1949). His former residence, a traditional architecture done in Miao style, has a total area of 800 square meters.
Former Residence of Shen Congwen, Shen Congwen (1902-1988) was one of the most famous writers in Chinese history as well as a historian and archaeologist. He contributed greatly to the development of modern Chinese literature and was twice nominated for the Nobel Prize in Literature. In 1991, his former residence was listed as a cultural relic, and has been carefully restored. Venerated by the local residents, the one-time home and the tomb of this famous and versatile writer have become tourist attractions.

Rainbow Bridge is located at the center of town. A typical covered bridge, the Rainbow Bridge has a bright-vermeil (gold over sterling silver) body. You will pass by Rainbow Bridge when you are boating in Tuo Jiang River.

Tuojiang River is a life force of the local people. In its waters women wash their clothes and clean rice and vegetables while the men fish with their nets. A short boat ride of 10 minutes on the Tuo Jiang River is also a good experience to relax.

★ When to go
Fenghuang Ancient City is near to Zhangjiajie, so just like Zhangjiajie, almost any time of the year is good for visiting Fenghuang Ancient City. But the best time to this ancient city is from March to November. And the most important is that you don't need to worry about the weather, you can still enjoy the beauty even in a rainy day with thick fog. Please change your schedule if your ttravel time is in Chinese national holiday, it will be very crowded and everything is expensive.

★ How to get there
■ From Changsha:


■ From Zhangjiajie
There are a lot of shuttle buses you can take in Zhangjiajie Bus Sation to Fenghuang Ancient City, about 4 hours bus riding and the ticket price is around 65RMB/PAX;
Bus schedule:09:30, 12:30, 14:30, 15:30 and 17:20

■ From Wulingyuan
There are only two buses running from Wulingyuan to Fenghuang Ancient City, it takes around 5 hours and the tickets price is 77RMB/PAX;
Bus schedule: 8:30, 14:30
■ Zhangjiajie--Jishou--Fenghuang Ancient City
The cheapest way to arrive in Fenghuang Ancient City is by train, first, you can take train to arrive in Jishou Railway Station.Then turn to Jishou North Bus Station near the railway station. There are regular buses to Phoenix Ancient Town, 30 minutes riding and the ticket price is 23RMB/PAX.

Train schedule: K9064/K9065, K1261, K267, K1373/K1376, K9067/K9070, K473, 2011, K807/K810, K1473, K9032/K9033, K2285/K2288,T281/T284,7265.

■ From Tongren
You can arrive in Tongren Airport, the airport is a feeder airport about 30km from Phoenix Ancient Town. Visitors can take tourist bus to get to Fenghuang Ancient City directly, the bus running time is from 8:00am --16:00pm.

★ What to buy
Ginger Sugar, the most characteristic local specialty of Phoenix City, originates from a local snack made by Phoenixers since two or three hundreds years ago. At the beginning, Phoenixers made ginger sugar to treat guests and comfort their children on every occasion of festival; however, with the development of tourism, this snack was welcomed by tourists for its taste and function of curing cold. When the visitors settled down, they would always ask the inn holder for some ginger sugar.

Kiwi is the most popular local products in Fenghuang Ancient City, with its fruit juice, delicate fragrance, and its sour and sweet that pleasant to eat, and abundant nutrition. Its Vitamin C reaches as high as 100-420g per100mg, which is several times even dozens of times higher than other fruits, such as citrus, apples. Besides, it has various organic compounds, such as sugars, protein and Amino acids, and many minerals, which is essential for Human body.

Most local people in Fenghuang are Miao minority people, The Miao girls fancy silver ornaments, and wherever they live, their dresses, especially their silver jewelries, will become the local highlights and cultural sight. There are a lot of silver ornament shop stores scatter in Fenghuang Ancient City, please don't forget to bargain before you buy.

★ Where to stay
Inside the ancient city: Fenghuang Ancient City is developing dramatically recently, there are all kinds of hotels to satisfy your needs. Most visitors choose to stay in some home stays along Tuojiang River, with Vernacular architecture and courtyards as basic elements while combining modern hotel concepts of comfort,to stay in some home stays is a good experience. But it is often filled with noisy Karaoke joints in the evening.

Outside the ancient city: From budget inns to Five-star Hotels. But the facilities in Five-star hotels are not as good as your expectation. The most popular hotel in Fenghuang are Phoenix Grand Hotel.

★ Where to eat
Numerous restaurants are available in Fenghuang Ancient City, Miao minority people are born bold and forthright, "Sour" and "spicy" are the indispensable tastes, without these two flavors, everything would be tasteless. The restaurants along Tuo Jiang River can offer you a lot of delicious local food, what's more, the price is also reasonable.

Alternatively we can arrange our guide to take you to have fast food if you dislike the local taste, there is a KFC in Fenghuang Ancient City.

★ Nearby Attractions:
■ The Southern Great Wall
Address: Fenghuang Ancient City
The Southern Great Wall of Fenghuang was built in Jiajing thirty-three years of Ming Dynasty, completed in Tianqi three years of Ming Dynasty (A.D. 1554 -- A.D. 1622). The Great Wall stretches from Tingziguan of TongRen City in Guizhou Province to Jishou City in the Western of Hunan Province, which is known as the "ten thousand miles of Miao Territory ".
■ Dehang Miao Village
Address: Tujia and Miao Autonomous Prefecture in Xiangxi
Dehang means "a beautiful valley" in Miao language. In the scenic spot, streams are crossing to each other; deep valleys, spectacular waterfalls, grand mountain ranges, ancient trees and special flowers, precious birds and animals are everywhere.

■ Furong Town
Address: Located in the Youshui River
Furong Town that is seemingly ordinary village is originally Tuwang's capital in Qin and Han Dynasty, which called Youyang. But in the period of Five Dynasties and Ten Kingdoms, it called Xizhou. After the movie "Furong Town" was done in this place, so it was renamed "Furong Town".