【Location】Li River, Guilin City
【Type】 Natural Landscape
【Rank】 ★★★★★
【Recommended Time to stay】 4--5 hours
【Opening Hours】
• Each April to October: 08:40-22:40
• Each November to March: 08:40~21:40
Li River, the highlight of Guilin's attractions, is one of the most famous places in China for tourists. This section, the most beautiful of the entire river, is 83km long and flows from Guilin to Yangshuo. Its banks have hills, cliffs and caves that can be enjoyed from a bamboo boat ride down the river. The Lijiang River was described by famous poet Hanyu as "a blue silk ribbon and the mountains resemble emerald hairpins".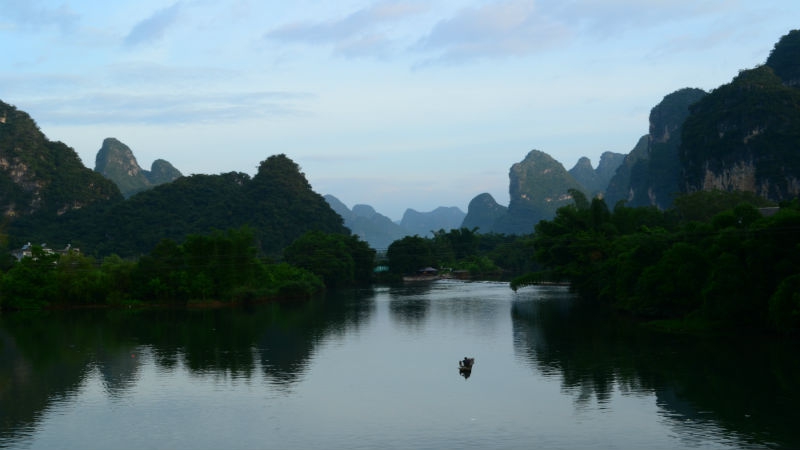 The Li River flows from the Cat Mountain at Xinan county in northeast guilin past Guili, Yangshuo and empties into Gongchen River in Pingle County.You will find true serenity when you see the beautiful scenes the Lijiang river has to offer from rollings hills reflected like a dream landscape in the river to green bamboo forests with water buffalos grazing nearby to lazy ducks wading in the river. The beauty of this river can only be experience to be understood.

The Li River is famous for its four sources of beauty: verdant mountains, fragrant waters, mysterious grottoes, and exquisite rocks. When journeying down the river, you'll pass by whimsically named formations given by tourists of old, though a strong imagination may be needed to fully visualize their namesake. A boat trip on the peaceful Li River will be the most enjoyable part of a trip to Guilin. Most cruises go down river to Yangshuo and then bus it back to Guilin, though some cruises begin from Yangshuo and go upriver to Guilin. The best times are spring and autumn, the summer can be overwhelmingly hot and muggy while the winters have low water levels.