【Location】Yangshou County, Guilin City
【Type】 Natural Landscape
【Rank】 ★★★★★
【Recommended Time for a visit】 2 Days

There are plenty things to see and to do in Yangshuo: Karst peaks, plains and some local villages... you can only not enjoy the spectacular natural sceneries but also experience the colorful local culture.
Yangshou has some of the most beautiful karst mountain landscapes in the world. Yangshuo is reached by most visitors by taking a cruise down the picturesque Li River. The area is filled with karst mountains. The views are nothing short of breathtaking. The atmosphere in Yangshuo is a unique one. The streets are usually filled with Westerners and most of the shops, restaurants, hotels, and bars are designed to cater to them. Each year approximately 100,000 westerners come to Yangshuo, making it a unique blend of cultures.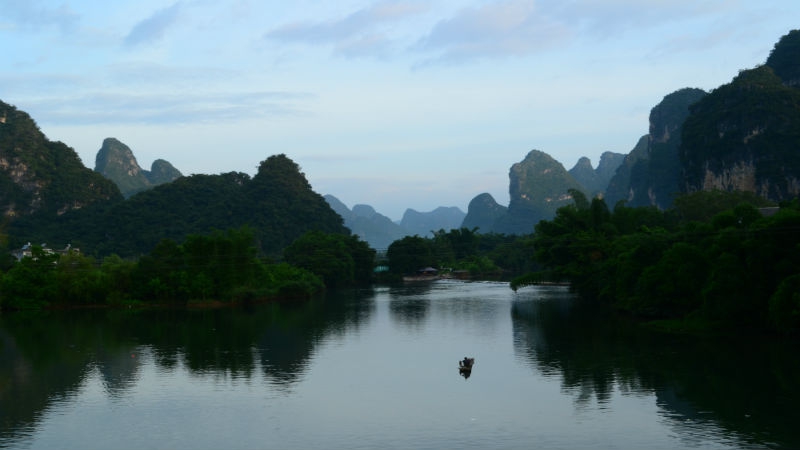 The Best of Yangshuo

★ Moon Hill
A leisurely 30-minutes ride from Yangshuo, and to the west of the highway, is Moon Hill, a limestone pinnacle with a moon-shaped hole square in the middle. There are stairs that lead from the bottom of Moon Hill to its windy, arched peak. Be prepared for a good workout as you haul yourself to the top. The pah gets narrower, rougher and more slippery as you near the peak, but the panoramic view is worth the sweat. If you start at 5:30am, you can make it in good time for the electrifying sunrise. On a clear day, you get a rewarding 360-degree-view of karst topography and Jinbao River unfurling in the distance horizon.

★ Xingping Village

Xingping Village is also noteworthy for its superior Fengshui. Seven mountainside form a protective shield around the village and two stone guardians stand erect at the village entrance. Together they keep the temptations of the modern world at bay, but these relics also tend to discourage proper sanitation and sanitary habits. Odors of the natural kind abound in this rural backwater albeit culturally rich village.

Ornamental eaves, elegant sloping roofs and ancient homes have long drawn scholars and dignitaries to walk the quaint back alleys. it's said that Sun Yat-sen visited the village when he was preparing to tackle the warlords of the north. In 1998, former American President Bill Clinton also popped by. Xingping can be reached from Yangshuo via minibuses, but picturesque Xingping is best appreciated if you bike or walk along the country road.

★ Banyan of a Thousand Years

The enormous Banyan of a Thousand Years is 1,400 years old. Located just 7.5 km south of Yangshuo, is a major tourist attraction. Measuring 17m high, 7.1m wide and spanning an area of over 1,000㎡, the ancient tree lies on the western bank of the Jinbao River.

There are also a lot of beautiful caves which are worth visiting when you are in Yangshuo, such as the recently opened Lotus Cave in Xingping showcases more than a hundred different types of lotus. Black Buddha Caves, Water Caves and Dragon Cave.